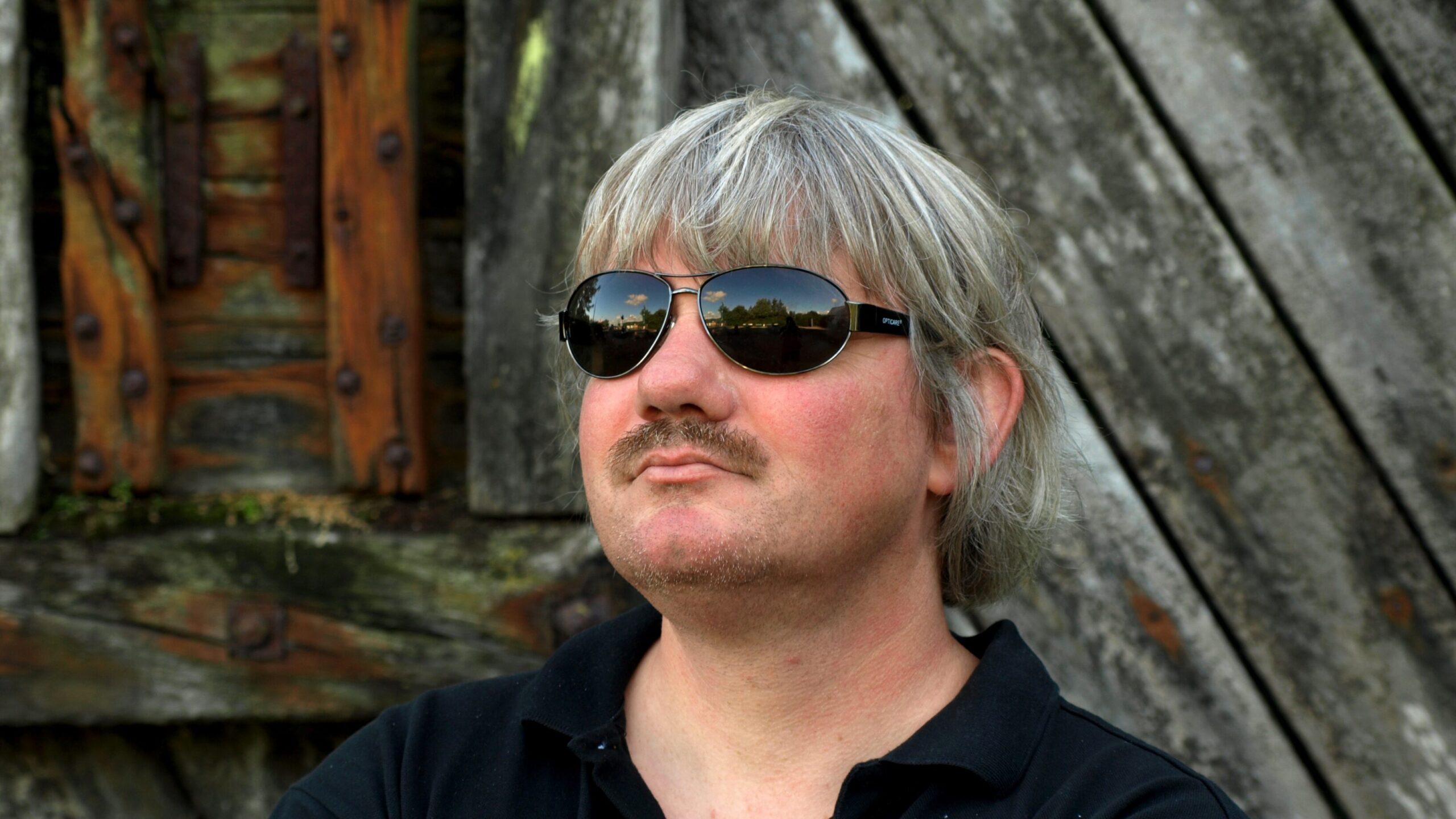 Well, I pick up an interest in music from an early age and stated to play guitar with the local lads. The main inspiration was the prog rock acts around at that time like Pink Floyd, Uriah Heep, Deep Purple, Manfred Manns Earth band, Yes, Queen and so on.
I started my music studies with Steffen Kyhn, a classic guitarist, who also was very much into jazz, Miles Davis and stuff like that, which he introduced me to. Steffen even had a rare guitar that once had belonged to John Lennon from his short stay in Denmark – So I have had the privilege to play on one of John Lennons guitars…
Later I studied with Knud Moeller, who introduced me to Frank Zappa and the art of composing. He was a big inspiration and pushed me hard to start making my own music…which I did!
Then I continued a long string of formal education in music; First Music at college, then the Univerity (AAU) and finally at the University College Hjoerring – all in all eight years where I learned at least basic skills on the piano, harmony theory, composing and arranging, history, singing, choir work and arranging and basic skills on bass, keyboards, guitar and drums etc.
In these early years I was involved in lot of different music activities and I took up writing short stories as well as painting and other visual arts. Music and its visual presentation has always been a major interest to me and something I have always tried to work with in my bands. I like the idea of the concept – sound and vision coming together as a whole.
Some of the ensembles I have been involved in are:
"De Spillemaend"; I joined this folk group who played weekly shows when I was at college and stayed on for about 15 years – still a passive member of sorts. A great bunch of people, who also were involved in politics and we played to a lot of political meetings over the years.
"Hirtshals Big Band" conducted by Per Ringkoebing a famous Danish jazz trumpet player. Once he played regular in a club in Hamburg and had a rather unknown support band called "The Beatles"…Too much waiting for the moment of that single guitar solo to come, so I was just in for a short period – a year or so.
A Classical Guitar Quartet,. We mostly played at small venues like schools, churches and art museums. It was a very nice and well balanced act, playing the old guitar masters as well as new music. I also wrote several pieces for the ensemble.
"Not Fragile"; Well, a rater heavy going Rock´n roll band. I played guitar for a few years…mostly weekends…mostly very late…lots of fun…you get the picture…
"4´er uden Styrmand" – a regular party bands playing weddings, burthdays etc. on and of for 15 years. I joined them in 1999. We usually play at parties, weddings and so on. I played the bass guitar and it is actually much fun!

In the late eighties I composed a few major pieces of classical music: I composed a symphonic piece for the complete symphony orchestra, called Utopia. This particular piece almost took me a year to finish, but it got played and I learned a lot about the individual instruments and how to arrange for full orchestra. I later adapted the piece to my rock band, Atlantis, for string quartet and even for solo piano so it has been well used.
I got the second price in a competition for a new fanfare for the city of Hjoerring and composed a piece called "Pro Musica" for strings, percussion and 2 trumpets.
I also got involved in our local house of music, called "Sysseltinget". I was behind the bar (and sometimes in front of it…), a member of the board and for many years I was also behind the mixing desk! This has undoubtedly been a very good lesson for me: You have to know your ways around the equipment, have to be quick and when the band goes on stage, you have to make it sound like a million in a blink of an eye.
But my main concern was rock music and in 1982 I formed Atlantis with some friends and my cousin, Flemming K. Pedersen. We played together for more than 10 years and did quite a lot of concerts and festivals. In 86´ we actually did open the Roskilde Festival on the green stage and in 89´ we played at Midtfyns Festival, which at that point was almost as big as Roskilde Festival. Midtfyn was undoubtedly our biggest success as we played in a big tent, that soon got crowded and people started gathering outside as well shouting for more. Read more about Atlantis in the "Atlantis Biography"
Atlantis soon began recording demos at various studios – even two tracks for the LP compilation "Det danske Haab" in an Aarhus studio – but the recordings was never really to our satisfaction. We wanted to control the recording process ourselves in the sense of both time and money wise, but also the technical and creative side of things. That lead to the decision of building my own recording studio. I found and bought a house in the countryside that fitted that purpose: In 1990 the Klangshoej studio was born. First I did a lot of recordings with Atlantis and then moved on to my solo work and quite a lot of local bands as well as minor acoustic acts and even mobile recordings of musicals, choirs and classical concerts in churches and so on.
Besides playing the guitar in the Danish prog rock band, Atlantis, and listening to various forms of progressive music I have always had a strong passion for electronic music ever since I first heard Tangerine Dream's "Stratosfear" back in the middle of the seventies. Tangerine Dream was a big inspiration – a completely new and interesting sound. I hunted down all the information I could about this group and much later, in 1997, I wrote a biography about them. It was published in the grove E-dition magazine, but you are free to download it from here – It is called "30 Years of Dreaming".
Very early I began to play with synths and multitrack recorders. I bought my first synth – a monophonic Roland SH 1 – in 1979 and the number of electronic instruments has grown considerably since then.
In 1989 three members of Atlantis, Flemming K. Pedersen, Eirik Moland and me – all sharing the same interest in experimenting with sound – made a collection of music. It was made as a private release on MC bearing the title "Statics" – Later re-mastered to CD.
This lead to some recognition locally, and I then moved on to make electronic music on my own. The project was named "Timescape" after a great Science Fiction novel by Gregory Benford.
In 1994 I began recording the tracks for One "Small Step and a Giant Leap". The music was of course inspired by the 25th anniversary of the first Moon landing. The recordings were done in May 1996 and released privately on MC. The music was re-mastered in 1998 and a new master made in 2019 to celebrate the 50 years of the Moon landing
Then a mutual friend introduced me to Tony Andersen and after listening to each other's music we decided to start working together. The very first time we met was actually at a Jean Michel Jarre concert in Berlinn.
Another main project that began in 1998 is Navigator. Tony and I met the German Keyboard player Jens Peschke and decided to form a band playing electronic music in the Berlin School style inspired by Tangerine Dream, Klaus Schulze, Ashra and the likes.
In 2010 Atlantis – who actually never really split up – decided to record some of the old tracks that we still think stands the test of time.
In 2015 the former bass player from Atlantis returned to Denmark after a few years in Africa and we started to play together again – first playing covers as "Big Daddy", but we soon wanted to play our own stuff. We began to take up both old Atlantis stuff as well as composing new music – clearly in the Prog rock genre! The band is called "Fall of Episteme" and in 2019 we released our self-titlet debut CD
As Tony has been very busy the past few years I played a few concert alone and I team up with another local band "Mare" and together we did some double concerts together.
Kent Eskildsen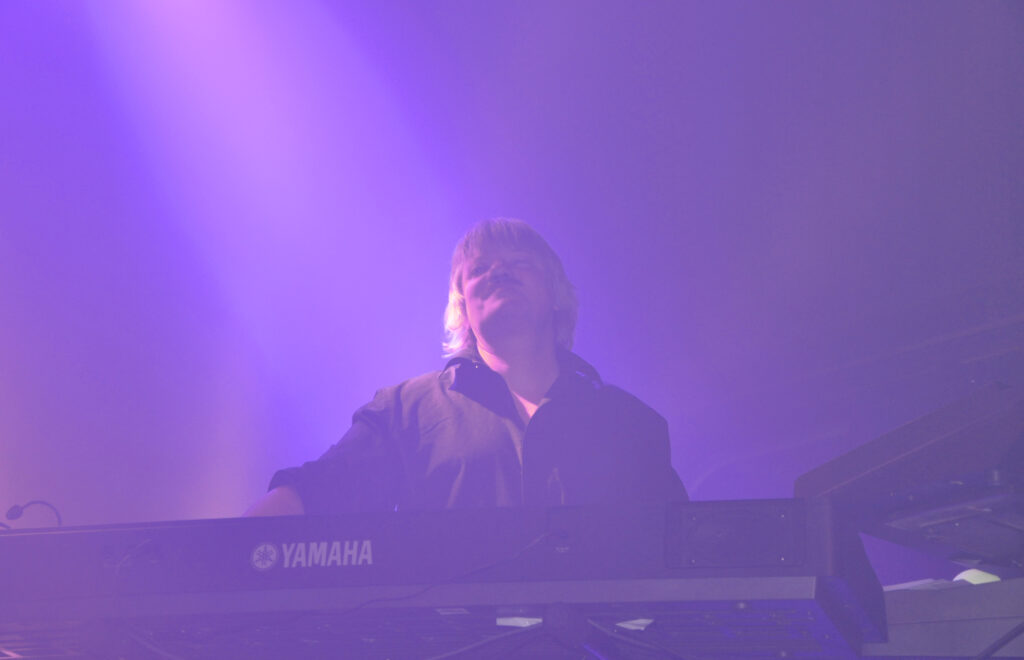 Kent Eskildsen Chronology
1978-81: Music studies at College, Hjørring
1978-95: De Spillemænd – Acoustic folk music. Kent plays guitar and occasionally bass
1979: First synth – the Roland SH 1
1980: Classical Guitar Quartet / Guitar in Hirtshals Bigband
1982: Atlantis was formed. Danish prog rock. Kent on guitar, vocals and writing most of the music with hiscousin Flemming K. Pedersen.
1983-84: Music studies at the University AUC, Ålborg
1985: "Fanfare" – Second price in a competition for at new Hjørring Fanfare
1986-90: Music & teaching studies at University College, Hjørring
1987: MC "Statics" Experiments with homerecording and synth music with Eric Moland and Flemming K Pedersen from Atlantis
1988: The track "Timescape" for Atlantis
"Utopia" for full symphonic orchestra – Performed live by a local orchestra 6th of December
There are also versions of the piece for Solo Piano, Rock band and a String Orchestra
1989: "Newstheme" for a local radio/TV station in Denmark,
"Vendsyssel" – soundtrack for a tourist video about Northern Jylland
Pro Musica – Symphonic piece for Strings, Pauke & 2 trumpets
1990: "5 Pieces for Guitar Trio"
The Klangshøj Recording Studio was build. Recording of local rock bands and own music
1990-present day: Teaching at public schools – including music
1994-95: Not Fragile – Guitar in a local rock band
1996: MC: "One Small Step and a Giant Leap". Re-mastered to CDR in 1998 / 2019
1996: Timescape was formed
1997: "30 Years of Dreaming" Kent writes a book about the German band – Tangerine Dream
1998: Navigator was formed

1999: "4´er uden Styrmand" – Kent joins a local cover band on bass and vocals
2006: Composing music for a local musical "Udenfor…og alligevel…" with Tina S. Johansen Composing scary soundtrack for theater, "Dracula"
2007: Session musician on the musical "Rousseau" and CD recording
2010: Composing music for the big outdoor show celebrating the city of Viborg 950 yers on 28.05.2010

2014: Playing guitar and composing in the Danish Prog Rockband "Fall of Episteme"
2019: Timescape released "Test of Time", "Pripyat" and the Re-release of "One Small Step and a Giant Leap"
2019: "Fall of Episteme" released the debut CD – Called "Fall of Episteme" and with great cover artwork by Eric Svinth.
2019: A few Live concerts at the Danish West Coast: Thunderdome – Naturmoedet, Last Concert at Sysseltinget, Vendsyssel Theater and Cafe Chic Oldschool
2020: Corona Lockdown! All concerts and collaborations cancelled!
2021:New Website up and running